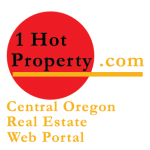 This is a share of a recent article by 
Calculated Risk from a leading finance and economics blog written by Bill McBride, and published in Business Insider Magazine.
Bryan Smith CEO of 1 Hot Property.com a Bend Oregon Real Estate web portal and Bend real estate blog offers commentary about the article and additional comments on Bend Real Estate and the National economy as it relates to real estate and the where values are going from here with Bend Oregon homes.
From Bill McBride:
There have been some recent articles arguing the "housing bottom is nowhere in sight". That isn't my view.
First there are two bottoms for housing. The first is for new home sales, housing starts and residential investment. The second bottom is for prices. Sometimes these bottoms can happen years apart.
For the economy and jobs, the bottom for housing starts and new home sales is more important than the bottom for prices. However individual homeowners and potential home buyers are naturally more interested in prices. So when we discuss a "bottom" for housing, we need to be clear on what we mean.
For new home sales and housing starts, it appears the bottom is in, and I expect an increase in both starts and sales in 2012.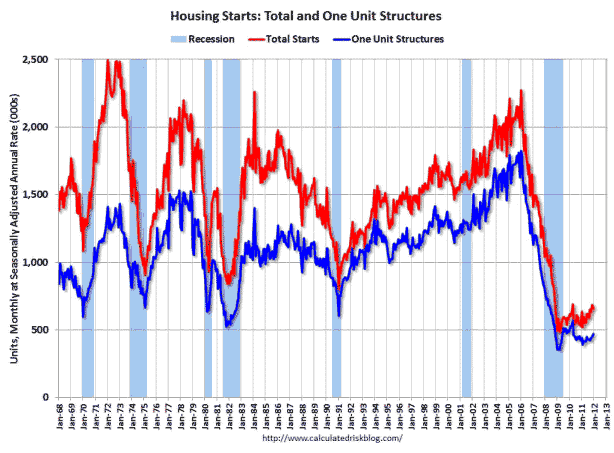 As the first graph shows, housing starts, both total and single family, bottomed in 2009 and have mostly moved sideways since then – with some distortions due to the ill-conceived housing tax credit.
New Home sales probably bottomed in mid-2010 and have flat lined since then.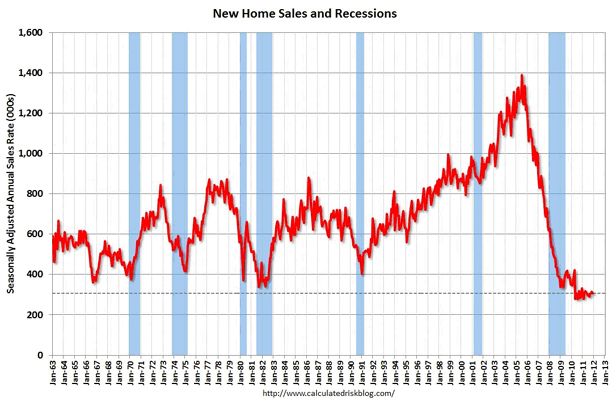 Back in 2009, when I first wrote about the two bottoms, I thought we were close on housing starts and new home sales – but that it was "way too early to try to call the bottom in prices." In real terms, house prices have fallen another 10% to 15% since I wrote that post according to the CoreLogic and Case-Shiller house price indexes.
And it now appears we can look for the bottom in prices. My guess is that nominal house prices, using the national repeat sales indexes and not seasonally adjusted, will bottom in March 2012.
The problem with using the house price indexes to look for a bottom is that they are reported with a significant lag. As an example, the recently released Case-Shiller index was for November and the index is an average of September, October and November – so it is a report for several months ago. The CoreLogic index is a little more current – the recent release was for December, and CoreLogic uses a weighted average for prices (December weighted the most) – but that is still quite a lag.
Both of those indexes will bottom seasonally around March, and then start increasing again.
There are several reasons I think that house prices are close to a bottom. First prices are close to normal looking at the price-to-rent ratio and real prices (especially if prices fall another 4% to 5% NSA between the November Case-Shiller report and the March report). Second the large decline in listed inventory means less downward pressure on house prices, and third, I think that several policy initiatives will lessen the pressure from distressed sales (the probable mortgage settlement, the HARP refinance program, and more).
Of course these are national price indexes and there will be significant variability across the country. Areas with a large backlog of distressed properties – especially some states with a judicial foreclosure process – will probably see further price declines.
And this doesn't mean prices will increase significantly any time soon. Usually towards the end of a housing bust, nominal prices mostly move sideways for a few years, and real prices (adjusted for inflation) could even decline for another 2 or 3 years.
But most homeowners and home buyers focus on nominal prices and there is reasonable chance that the bottom is here.
—————-
Bryan Smith,  CEO of 1 Hot Property.com, a Central Oregon Real Estate web portal,  and author of a Bend Real Estate blog, adds the following commentary.
New Construction in Niche and "A" markets are doing pretty well in Bend and Portland Oregon. 
Time will tell if that trend expands to the next tier.  There are headwinds, like tight lending standards, but the trends are improved.  Low rates are helping, inventories in the above noted markets are at 4 months, which is very good.
Some national economic changes would help even more:
a) Allow all FNMA and Freddie Mac mortgages to be refinanced at current levels.
The taxpayers "own" all of these loans, and risk is lower on default if they are refinanced to current low rates.  The problem is, these two GSE's make money on the spread, and do not want to lower rates for the majority of their holdings.  This however is counter to the original mandate of their creation, brought about by the current goals of their government manager,  who is seeking to change what they were put in place to do.  I would argue that instead of the FED enriching banks by lending to them at close to zero and then allowing them to by treasuries to make the spread, we should actually fund the GSE's to allow everyone to lower their mortgage costs.  This would slow foreclosures, and further stabilize the market, and provide an economic boost as mortgage holders save or spend the savings.
b) Some economists are now seeing, that trade policies and energy policies damaged the economy, prior to the real estate bubble, and bank destabilization.
If we had strong employment with good middle wage jobs, that we lost due to trade policies, then the downturn would have been more of a true recession, more mild, and respond to fed stimulus.  The problem is the FED did not create this recession, like previous ones, so they cannot fix it with low rates.  Most favored nation status for China, without requiring that their manufacturing processes meet all the requirements in place in the U.S. created an economic imbalance, which was filled by the closing of manufacturing plants in the U.S.  Yes China would still have increased it's manufacturing based on lower wages, however other cost components, are actually a larger factor.  We could and should reverse this error, by phasing in over 5 years, a requirement that all products imported into the U.S. are certified to be manufactured with the same standards for all the manufacturing processes that are required in the U.S.  This would include pollution output, energy usage (percentage of green energy, reduced use of coal in electrical production etc) and so on.  So we have a choice, continue on in the same way and allow China and others to gut our manufacturing sectors, and middle wage jobs, or fight back and create actual equal trade.  We need middle wage jobs to have a strong economy, minimum wage jobs with no health care insurance, and service industry jobs are not going to provide the basis for a balance budget in the U.S.
We can follow Greece and Italy and such and try to cut budgets with austerity, try to continue to sell Treasuries and borrow to pay for budgets that do not recognize the reality of our "new" economy, or fight back and change the laws on the books to give Americans the chance to compete.  We do have the right to regulate imports, and this would not be a blanket tariff, as many other countries have standards for manufacturing similar to ours.  This would only impact those countries who have standards less than ours.  They can improve their standards, and raise the prices on products, or choose not to export to the U.S.  Yes prices would go up on a lot of imported products, but your neighbor would have a job, and we would have a way to grow the economy and cut deficits the good way, by stimulating incomes, and collecting the taxes on that growth, rather than raising tax rates.
And with regard to Real Estate, you need a healthy economy with good middle wage manufacturing jobs, to create incomes sufficient to purchase and keep homes.
Local Bend Real Estate:
As far as Bend Real Estate goes, we like Northwest Crossing.  At our 1 Hot Property – Bend Oregon Real Estate website we feature an easy tabbed Bend Oregon MLS search, which displays all the current listings on the market.  This month we are featuring Northwest Crossing on our Bend Oregon Real Estate page.
We invite you to check out our Bend Real Estate blog, and sign up for RSS feeds to keep up with breaking national and local news and commentary about Real Estate.  We also invite you to visit our 1 Hot Property – Bend Oregon Real Estate Facebook Page , "Like"  us and be eligible for Bend Real Estate related coupons and special offers from our Bend Real Estate related vendors of services.