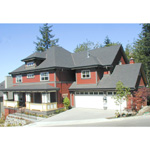 Bend Real Estate:
1216 Shevlin Park Road
Bend, Oregon.
1 Hot Property:
Broker: Bryan Smith
MLS: 28884888
$897,800
This Property is 3400 sq ft,  Located on Shevlin Park road,  near Shevlin Commons.  Designed by local artisan, Bryan Smith in the Bungalow 4 square historic reproduction style.  The home features attention to detail throughout.
1 Hot Property: Why is this property in the category of  homes over $800,000 your top Pick?
Bryan Smith:  I reviewed the properties in this category, and feel that this particular home has a number of qualities, when combined make it a top pick.
The property is located about a 1/2 mile from Shevlin Park.  The location offers quick access to walking trails and biking.  The property has some views of the mountains from the front porch.
Location: 8 of 10
Architecture: 9 of 10
Quality of construction: 8 of 10
Landscaping: 8 of 10
Neighborhood: 7 of 10
Interior design: 9 of 10
Kitchen: 10 of 10
Price: 8 of 10
Cons: There are quite a number of quality homes on the market in this price range, creating some other competing choices.  This property is worth seeing and adding to your short list.
Pros: A great property for picky purchasers especially buyers who want very high quality.
A great example of Bend Real Estate.